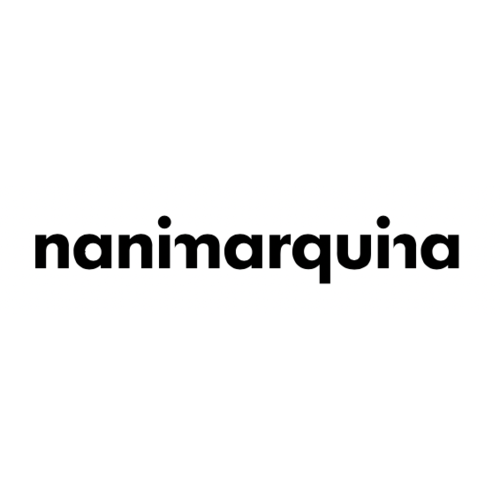 nanimarquina
Guided by its passion for design and thanks to a long trajectory in private and public projects, nanimarquina has become an international reference in contemporary carpets and interior design.
Get to know our history

1960 - The family craft
Design has always been present in the Marquina family home. Rafael Marquina, Nani's father and creator of the famous Marquina oil mill, was one of the pioneers of industrial design in Spain. This fact influenced Nani, who, attracted by her father's creative capacity, wanted to follow in his footsteps. However, in the seventies, a new path for design emerged, closer to art and craftsmanship, which Nani wanted to experiment with.

1987 - nanimarquina is born
After the dictatorship and the establishment of democracy, many revolutions - economic, social and political - transformed Spain from top to bottom. It was a time of extraordinary vitality, euphoria and celebration, also described as the design boom. It was in this context that nanimarquina was born, bursting onto the market with a new vision of the era: to turn the classic rug into a contemporary design product.
"I wanted to design visually stunning rugs that people would enjoy."
Nani Marquina

1993 - First trip to India and Panipat
At the time, both the fledgling profession of industrial designer and entrepreneur were reserved for men. However, this fact didn't stop Nani Marquina from designing her own designs.


1995 - We collaborate with Care & Fair
Since 2002 we have been collaborating with Care & Fair, an organization founded in 1994 to fight child labor and improve the quality of life of carpet manufacturers and their families in India and Pakistan. With the financial support of nanimarquina, Care & Fair has financed the Amita school in Vidyalaya in Bhadohi through the Kala project, as well as health centers in collaboration with other companies in the sector.

2002 - Second generation
nanimarquina is a family business. In 2002 Nani's daughter, Maria Piera Marquina, joined the company, driving its international expansion. Today Maria is the General Manager. In 2002 Nani's sister, Carlota Marquina, also joined the team as graphic designer and Art Director defining the visual communication of nanimarquina and its products.

2005 - Reduce, reuse and recycle
Caring for the environment has been a constant throughout our history. From the beginning, we have designed long-lasting rugs that do not participate in throwaway consumption and that favor recycling, thus promoting a more conscious form of consumption. An example of this was the launch in 2005 of Bicicleta, through this collection made with used bicycle rubber, we give a second life to this material.

2008 - Social commitment
The Kala project arose from the collaboration with the Care & Fair organization. Through the sale of this collection created from the drawings ori
Wellbeing tapestry
The tapestry from the wonderful Wellbeing collection is a work of art resulting from the mastery of the loom technique where each piece is unique! Wellbeing takes us to the origins, to a tactile beauty that awakens the senses.